We are so excited to announce we will be hosting the 20th annual United Peafowl convention here at Louden Farms in Cleveland, Ohio on September 26-28.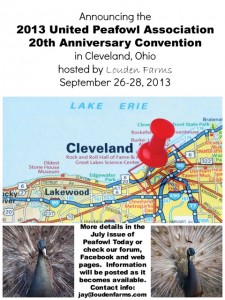 We would really love for you to join us for a fun filled three days of peafowl enchantment. Registration details including the schedule of events, can be found on the UPA website  You can even register and pay online!  This is a great opportunity to meet some fellow peafowl enthusiasts, talk birds and learn more about these fascinating creatures.
We would like to formally invite you, yes Y-O-U!!, to the 2013 20th anniversary UPA convention.  Even if you are not a member of the UPA and even if you have not been to a UPA convention before, you are missing out on a great time!   We have been to the past few conventions and have determined after our first, that we would not miss any future conventions.  The convention will be family friendly – all are welcome to come.  
A little bit about what you can expect at the convention:
Peafowl folk are pretty fun. 🙂 I think we all know this already, but I wanted to say it anyways.  At the convention we always have a busy, but fun, schedule.  The size of the convention and the group that comes is reasonable, and allows for everyone to meet and talk with one another.  Group discussions are one of the best features of the convention.  Here we have interactive discussions on topics such as nutrition, incubation, worming, predators, or whatever issues convention attendees may come up with.  There are no judgements in the discussion as we know we all are there to learn how to best keep our bird friends and there are no absolute right answers either. We have learned quite a bit during these discussions.
Now on to the details:
The Convention Site:
3775 Park East Dr., 
Beachwood, Ohio
1-866-460-7456
The nearby Beachwood Mall (indoor) and Legacy Village (outdoor) provide numerous dining and shopping choices.  There are several alternate hotels available in the area and we have no requirement for room booking at the Convention site, so feel free to choose accommodations at the Embassy or nearby hotels.
Other nearby attractions include horse racing at Northfield Park in Northfield, The Rock and Roll Hall of Fame, Hard Rock Cafe, the Horeshoe Casino and several world renowned museums all in downtown Cleveland, lazy drives through Amish country in nearby Middlefield and much, much more.  If you would like to find more to do in Cleveland, need assistance finding nearby hotels or want more convention info, please feel free to call us, we're more than happy to help you out and answer any questions you have.
Trips to local sites in the host city is part of the fun of the convention.  This year, the UPA will visit the Cleveland Zoo and Rain Forest.  The Cleveland Zoo has a spectacular indoor Rain Forest and new nationally renowned Elephant Exhibit.  We expect this to be a real treat and good time for all.  You can find more information about the Cleveland Zoo here:  www.clemetzoo.com.  In addition to the zoo, the UPA will also venture to a wildlife animal rescue and rehabilitation center, Penitentiary Glen, which serves the area as a refuge for abandoned or injured wildlife here in Northeast Ohio.  This is only a part of what Penitentiary Glen as to offer so we will have more to explore, including lots of nature trails and unique spots of interest.  More information can be found here:  www.lakemetroparks.com/select-park/penitentiaryglen.shtml
Both the zoo visit and Penitentiary Glen are included in the registration fee as well as dinner on Friday and lunch on Saturday.  
As highlight to our convention this year there will be a visit here at Louden Farms.  While the official visit will be on Saturday,  on Thursday evening we will host an informal bonfire with s'mores, hotdogs, refreshments and fun.  Here our friends may chat about bird topics or catch up on conversation, enjoy some relaxation, and have an all around good time.
Food is always one of the fun items at the convention, and the writing of s'mores and roasted weenies has got me savoring for this topic.  The UPA will host two meals at the convention included with your registration.  This year we are expected to dine at the Golden Corral after our zoo visit.  If you have not been to one of these, you are missing out!  The Golden Corral is a buffet style restaurant that has many, many offerings.  One of the best is a flowing chocolate fountain and made in front of you cotton candy.  (I think I am rotting my teeth out just writing this)  Our second meal will be hosted by Louden Farms on Saturday.
THE AUCTION!!  Do I need to say more??  At the auction, we find tons of peafowl-centric items and other beautiful and unique items donated by our generous members.  The auction is a major fund raiser for our club and without it and the wonderful donations of our members, we would not be able to continue operations as we are today.  The auction is a rowdy good time for all, with cheering, laughing, and goofing around.  The auction is held Friday evening, after our dinner at the Golden Corral.  At the end of the night we end up with beautiful and unique items to display or use around the house.  Some of the items donated in the past have included but is not limited to:  Art and crafts, dishes, display plates, jewelry, stationary, gorgeous handmade quilts, live peafowl, crotchet items, a vacation to florida, and much much much more.
If you have items to donate to keep our UPA club successful, we are accepting all donations of auction items, big and small.  Please send to 
Jen Louden
15852 Messenger Road
Burton Ohio 44021 
and mark that the item is for the 2013 UPA convention Auction.
We will keep track of all submissions and post thank you's in our UPA magazine.   We appreciate all our members and their help.
We look forward to seeing you at the 20th Anniversary Convention, September 26-28.
Jay and Jen Louden
PH#:216-392-5320