Ordering
If you would like to place an order please Email Us. We fill orders on a first come, first served basis and do have a limited number of eggs available; get your order in early to ensure availability.  We are NPIP certified (#31-467) to ship within the United States, Sorry NO INTERNATIONAL SHIPPING.
Hatching Egg Price List
Our Prices for 2015 are as follows:
NOTE: All prices are PER EGG and PLUS SHIPPING, unless otherwise noted.Contact us for an exact shipping quote. Typically I can ship up to a dozen chicken eggs or 6 peahen eggs for $18.
**If you are interested in started or adult birds, when available we list those on our for sale page.
Chicken Egg Pricing
Lavender Ameraucana – $8 each
Olive Egg Layers – $6 each
Tolbunt Polish – $12 each
Gold Laced Polish, standard size (NEW PAGE COMING SOON!) – $10 each
Louden Farms Chicken Egg Sample Pack – total of 7 eggs for at least 2 of our varieties of chickens. $60 PRICE INCLUDES SHIPPING
Peafowl Egg Pricing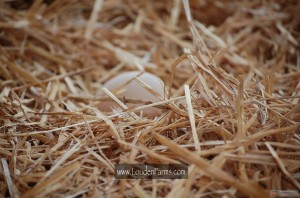 *all prices are per egg and DO NOT include shipping cost.*
Purple Spalding Black Shoulder $25 per egg
Peach – SORRY EGGS SOLD OUT FOR 2015
Opal White Eye  $25 per egg
Bronze Black Shoulder  $25 per egg
Bronze White Eye $25 per egg
Purple Silver Pied (NEW PAGE COMING SOON) $25 per egg
India Blue (NEW PAGE COMING SOON) $15 per egg
Shipping
Our shipping starts with egg collection. Each egg is carefully collected, kept in a cool environment and clearly marked with breed information. Eggs are collected several times daily and are mailed to you promptly to ensure the best fertility possible.
We ship priority mail with delivery confirmation. Each egg is individually wrapped in bubble wrap and then grouped into 2-3 egg bundles wrapped with additional bubble wrap. Those bundles are then placed inside the box that is filled with packing peanuts and topped with an additional layer of bubble wrap and more packing peanuts. I make sure all eggs are secure and snug in the packaging. Boxes are labeled with custom designed labels indicating their fragile contents with information like 'LIVE EMBRYOS'. I hand deliver them to the post office on Monday or Tuesday at the end of the day so that they have the best chance of arriving to their destination as quickly and safely as possible. We do our best to follow any customer instructions as to how they would like them packed or labeled if their request differs from my standard packaging.
To try to ensure as safe a journey as possible, when shipping eggs, we only use our own custom designed labels from Egg Carton Labels by ADozenGirlz. Each label clearly lets the post office know that there are FRAGILE EGGS inside!
Although we do take great care with our shipping process, please understand once the eggs enter into the postal system what happens is beyond our control. We ask you to please contact us when you package arrives and let us know if there were any problems.